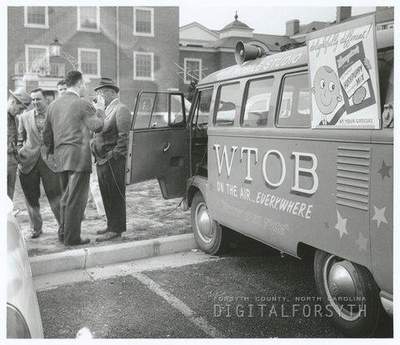 FULL TIME REQUEST LINE: 336-761-1380
Our Favorite Music Is On the Air on WTOB!
We're on the air at 980 AM and FM 96.7 in Winston-Salem and on 1470 AM in Greensboro! You'll hear all your favorite Good Guys on the air and online! Same great music, just a few clicks down the dial.
Thanks to all of our loyal listeners who have stuck by us, encouraged us and have been cheering for our return! There's much more to this story, so…..Stay Tuned!!!
WTOB's September 15, 2017 interview with The Flying Dutchman on the eve of his 80th birthday can be heard here:
WTOB's May 18, 2018 broadcast with WTOB Original Good Guy and Program Director John Stanton (1960-1969) and The Flying Dutchman (several times over 25 years) can be heard here:
At 1380 AM, WTOB was the number one radio station in Winston-Salem, North Carolina in the 1950's, 1960's and 1970's. We moved down the dial to another legacy Winston-Salem station frequency from the 50's and 60's – WAAA (Remember Daddy-Oh on the Patio?)! Now on 980 AM, we are set to make music for all time, for you, and for Winston-Salem, our hometown. We're also heard on W244EM, 96.7 FM in Winston-Salem and AM 1470 in Greensboro.
Our format is "classic hits", emulating the way the station sounded in the 1960's and 1970's with original jingles from the era. The music targets adults. Whether you are part of Generation X or a Baby Boomer, because of our wide variety, we think you'll hear songs you love and that defined your generation. The music brings back memories. We have live, passionate DJs and aspire to keep the station relevant to your modern day community information needs. We also have fun!
Let us help you spread the word about your business. We have creative advertising opportunities so you can get your business involved in the fun! Join us today right here!