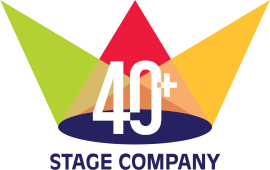 40+ Stage Company is proud to announce it will open its 2023 – 2024 season on Friday, September 29, with "Doubt" by John Partick Shanley. The play is set in 1964 in St. Nicholas Parish, a Catholic church and school in the Bronx, New York, Father Brendan Flynn has recently assumed the position of Assistant Pastorfor the parish. Trouble begins when School Principal Sister Aloysius suspect the young prist of improper relations with one of the boys attending the school. And understakes her own investigation of the priest's record before confronting him. In doing so Sr. Aloysius enlist the help of reluctant her protégé, Sister James, the boys teacher, and orders to be alert for any suspicious interactions between the priest and the youngster. Sr. James's faith in people's basic goodness is tested. Will Fr. Flynn find a way out from under Sr. Aloysius' righteous suspicions? He needs to clear his name. The play will be presented September 29 and 30: October 6 and 7 at 7:30 p.m. with matinees October 1 and 8 at 2:00 p.m. Mountcastle Forum. Tickets available HERE or call 336-747-1414. For more information about 40+ Stage Company, visit 40PlusStage.com.
DATES AND TIMES:
Evenings: September 29 and 30, and October 4 and 5 at 7:30 p.m. and matinees October 1 and 8 at 2:00 p.m.
PLACE: Mountcastle Theatre, Milton Rhodes Center for the Arts, 251 N. Spruce Street, Winston-Salem, NC.
COST/ADMISSION: Adult $20, Senior $16, Student $12. Plus taxes and fees on all prices
PARKING: Convenient parking is located directly across the street. Event Parking will be charged a nominal fee per car for most evening and weekend events. There are several parking garages located within walking distance.
MEDIA CONTACT: John J. Hohn, [email protected]
SEASON SPONSORS: JoBeth Souza, CPFA, CPWA, CRPC at Merrill Lynch and Bank of America Corporation: JoBeth Souza, Blanco-Tackabery Attorneys and Counsellors at Law. Made for You Media.